This article was posted on our Facebook wall today and it was it was just too good sad to not get its own post.
UTS customer Ingrid was planning on switching to a different provider, where  she'd be paying 60 guilders less every month for broadband Internet service. Ingrid's contract was expiring – she only had two weeks left on her deal – so she decided to go ahead and sign up with the other provider.
Ingrid didn't see any problem with this, because she assumed that she could just walk into UTS and cancel her service based on her expiring contract – something that you could do at any other reasonable company. Sadly, if you've ever had to deal with UTS, you'll know that this is much easier said than done.
After a number of trips to UTS, Ingrid was told that her contract was extended two months earlier. This so-called 'stilzwijgend verlengen' is not allowed in Holland or the U.S. anymore, but it's basically what's keeping UTS alive. I've written about opting out of your UTS contract a few years back and it looks like we haven't made any progress in this area at all.
Ingrid was stumped and offered to pay two months of "service costs" to get out of the contract, but UTS did not bite. The only way for her to get out of her contract, was to get someone else to take over the contract.
Please re-read that sentence and let the ridiculousness sink in. In the meantime, here's a gif of a cat acting like a dick.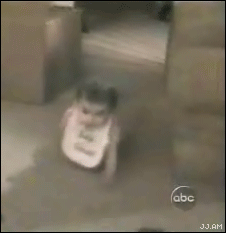 Ingrid asked if UTS would help find someone who would be willing to take over her contract – you know, like any new customer – but the answer was no. According to UTS, she either has to pay for an entire year, or find someone herself that is willing to take over her contract.
You can imagine that Ingrid is not in the mood to sit at UTS' office and ask people if they want to sign up and "take over" her contract. That's why she posted her story (and phone number) online, in the hopes of finding someone who may be looking to sign up at UTS to take over her contract at a reduced price.
Her phone number is 517-4006, so feel free to call if you can help. Like mentioned in the article above, this could be a good deal for anyone who is living in an area where Flow or TRES are not active yet and who is in need of broadband service.
Yes sir, UTS' lead in the "Fail Race" looks to be insurmountable…
Ah well, here's a cat doing some weird shit…